You may not know his name or his face. But chances are, if your television is on during prep for Thanksgiving Dinner, you may know his voice.
David Frei has been cohosting the National Dog Show for NBC Sports the past 14 years, aside his friend and colleague John O'Hurley.
Frei unites a number of skills needed to make the broadcast a success, including his years as an American Kennel Club-certified judge and significant media training. 
You'd think a guy like this has stories of growing up with a faithful dog forever by his side.
But you'd be wrong.
"I didn't have a dog growing up," Frei admits.
Frei didn't connect with man's best friend until his college days.
"I moved into my own house with a girlfriend who said, 'Let's get a dog.' And I said, 'Okay. What kind?'
"She says 'Afghan hound.' And I asked, 'What the heck is that?' And her response worried me a bit: 'It's a lot of hair on four legs.'"
As luck would have it, the dog lasted longer than the girl. She left; the hound stayed.
He began showing, gaining extensive knowledge and experience in the sport of dog competition.
Frei then navigated his way to a degree in Journalism, but his academics were interrupted by the service, where he was an Army veterinary specialist.
After leaving the service, he connected with the Westminster Kennel Club - arguably the most prestigious competition in all of dogdom. At their request, he began lending both his resonate baritone and his deep knowledge of dogs to on-air commentary.
It was a short hop to the Philadelphia Kennel Club and the National Dog Show, where he's been since 2003.
Successfully navigating the names of nearly 180 breeds as they funnel down to Best in Show isn't an easy task.
"The Petit Basset Griffon Vendeen is a little wiry French dog," Frei says. "And on the air about four years ago, I joked about getting the pronunciation correct, saying, 'My high-school French teacher, Mrs. Bach, would be proud.'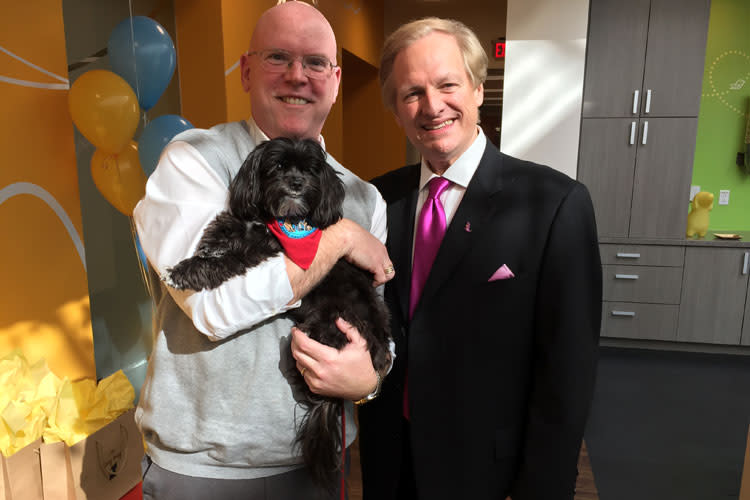 "Well, after the broadcast, I got a Facebook message from Mrs. Bach, verifying what I had said on-air was correct.
"But shortly thereafter the name was unofficially shortened to PBGV anyway," Frei laughs.
Frei believes deeply in the idea that show dogs must not only look good, they must display an ability to do the work they were bred to do.
"I've been trying to tell the poodle people for years that the dog doesn't have to have that kind of coat cut," he says, referring to the styled, clipped tufts of hair often seen on their paws. "This is a smart dog, a hunting dog, a powerful swimmer. But when shown, some sure don't look that way," he says.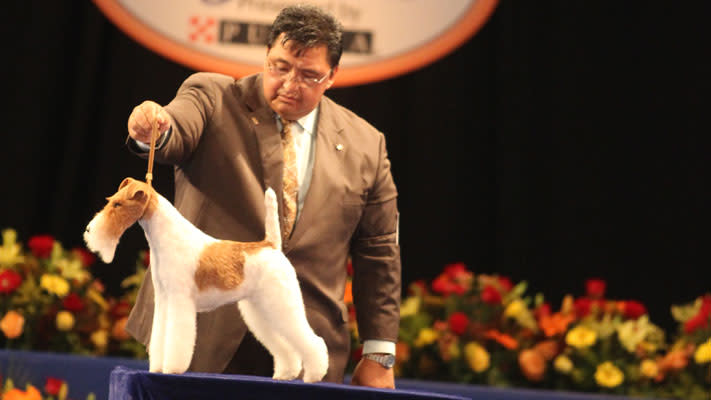 In watching show after show, dog after dog, Frei sometimes centers on a winner. But just as often, he is surprised when Best in Show is crowned.
"A lot of the dogs come in with a little bit of a reputation, earned over the course of the year. So I know who some of these dogs are who are doing a lot of the winning. And I love to see those dogs; it doesn't matter what breed they are. If they're a great dog, they're a great dog. And that's pretty evident.
"But by the end, when there are seven group winners standing, all those dogs are pretty good specimens of their own breeds. So now, it comes down to showmanship and character and pizzazz and personality and owning the ground they're standing on.
"It's a dog show, and you gotta show, is the way an old-time judge used to put it."
The National Dog Show celebrates the best in breeding, demeanor, physicality and personality in a dog. But it doesn't necessarily measure the magic between people and their pets, a fact that Frei is wholly aware.
"Dogs are members of our families," he summarizes. "The real Best in Show dog is the one that's sitting next to you on the couch."
The National Dog Show Sponsored by Purina is November 19-20 at the Greater Philadelphia Expo Center, and the public is welcome to attend, watch the judging and interact with the dogs when they're not in competition. The event is taped and airs on NBC on Thanksgiving Day, following the Macy's Thanksgiving Day Parade.