A new week brings a brand new lineup of awesome live music, hilarious comedy, and wonderful live theater right here in Montgomery County. Check out some of our favorite events happening this week, below!
Featured Events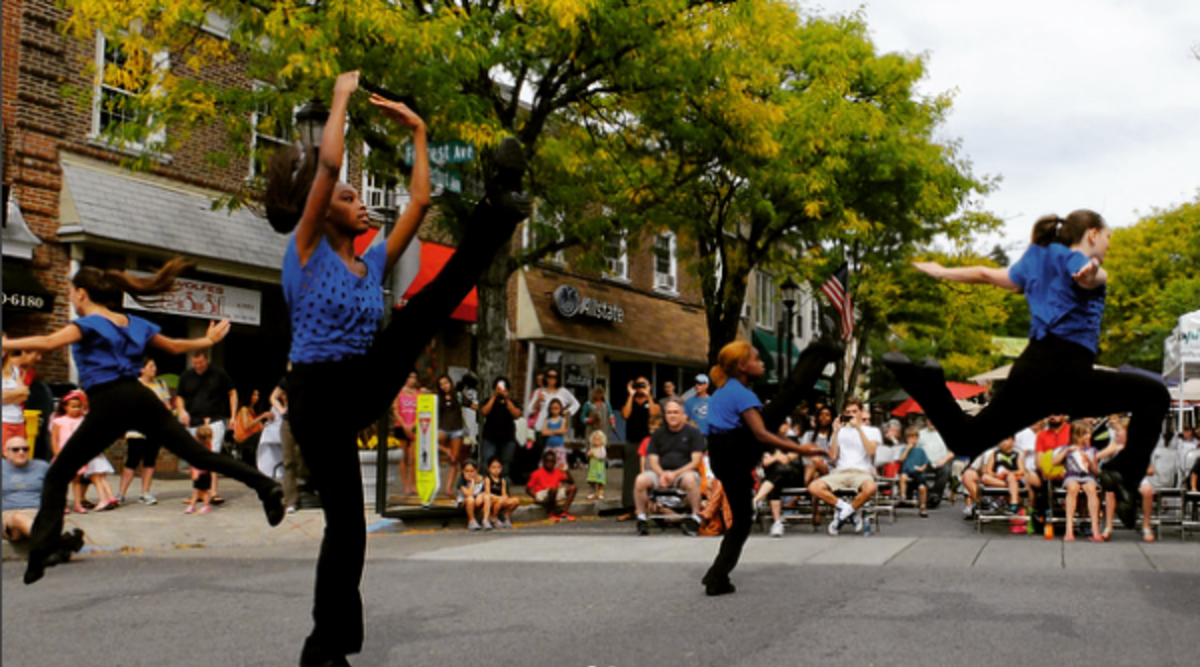 NARBERTH MUSIC & ARTS FESTIVAL
September 22
Narberth Main St. 
The Narberth Music and Arts Festival is a community event to gather in downtown Narberth. Come get a beer, a bite to eat, and enjoy our local musical and artistic talent!
THE B-52'S 40TH ANNIVERSARY TOUR WITH VERY SPECIAL GUESTS OMD & BERLIN
September 19
​The Mann Center for the Performing Arts
The B-52's celebrate their 40th Anniversary live at the Mann on September 19th with very special guests OMD and Berlin.

You don't need to look too hard to see or hear the multi-dimensional influence of The B-52's… For as loud as anthems like "Dance This Mess Around," "Love Shack," and "Rock Lobster" might resound, the group has quietly impacted alternative music, fashion, and culture over the course of four+ decades. Selling over 20 million albums worldwide, the GRAMMY® Award-nominated quartet—Fred Schneider (vocals, toy piano), Kate Pierson (vocals, keyboards), Cindy Wilson (vocals, percussion), and Keith Strickland (guitar, drums, keys, programming)—ignited a legacy of innovation and inspiration that dates back to 1976.
 
MAMACITA: A MOTHER'S COOPERATIVE IN THE ARTS EXHIBITION
August 28 - October 4
​Montgomery County Community College
MCCC to host MamaCITA: A Mother's Cooperative in the Arts exhibition
Montgomery County Community College will host an exhibition, "Marginalized," by the artists' group, MamaCITA (A Mother's Cooperative in the Arts), from August 28 to October 4 at the Fine Arts Center Gallery, Central Campus, 340 DeKalb Pike, Blue Bell.
The meet-the-artists reception for MamaCITA: A Mother's Cooperative in the Arts will be held Wednesday, September 11, from 5 to 7 p.m. in the Fine Arts Center Gallery. Both the exhibition and the reception are free and open to the community.
MamaCITA is a community of professional artists who are all mothers, with a goal to support each member in reaching her artistic potential. The artists work in a variety of media including oil, photography, fabric, and sculpture. The group maintains a membership of approximately 20 in the Philadelphia area with auxiliary groups in the Mid-Atlantic and New England regions.
ALICE IN WONDERLAND
September 13 - September 22
DCP Theatre
While letting her imagination wander, Alice encounters the White Rabbit, who is nervous about keeping his tarts safe for the Queen's royal croquet match. When the precious tarts are stolen, Alice goes in search for them to save the White Rabbit from losing his head! When she enters the world of Wonderland, she meets many peculiar characters. Throughout her adventure, each one plays an integral part in helping her find her way and solve the mystery of the stolen tarts. 
GREATER TUNA
August 28 - September 22
Act II Playhouse, Ltd.
A hilarious satire of small-town life. Two actors, twenty characters, and a barrel of laughs, y'all.
"Howlingly funny." -Variety
STEEL RIVER PLAYHOUSE PRESENTS THE ETHICS OF LIVING JIM CROW
September 21
​Steel River Playhouse
For ONE Night Only!
Steel River Playhouse Presents
The Ethics of Living Jim Crow
Join Steel River Playhouse in Pottstown PA on Saturday, September 21st at 8PM for an intense and important theatrical event, which will highlight the painful era in US history characterized by the forced segregation of African Americans. Mr. Brown brings these stories to life in a way that will stay with you long after the evening is over.
In 2007, local dramatist Reginald C. Brown was granted permission by Julia Wright, Richard Wright's daughter, to adapt stories from her father's book, Uncle Tom's Children. Richard Wright was, arguably, the most influential African-American writer of the twentieth century.
Uncle Tom's Children (1938) is a collection of short stories which laid bare, unflinchingly, the intense desperation felt by African Americans living under Jim Crow laws and practices. Before Wright, no one had exposed with such emotional power the oppression faced by People of Color. It would not be an exaggeration to say that his books helped to lay the ground work for the Civil Rights movement of the 1950s and 1960s.
COMEDY CLUB PRESENTS: GRAHAM KAY
September 20
​Valley Forge Casino Resort
An award-winning stand-up comedian, actor and TV writer, Graham Kay has been described as "Quick, clever, deliciously sarcastic and brilliantly funny" by The Huffington Post Comedy.