Ambler Main Street is home to many of Montco's stylish boutiques and fabulous restaurants. But one of Ambler's best-kept secrets is its unique art gallery, Art in the Storefront. Here, you can view work from local artists on display through the windows of the old Ambler Department Store building.
Art in the Storefront is co-curated by local artists and volunteers, Karen Kieser and Mark Elliott. Keiser is the owner of Immersion Studio and Elliott owns No Bare Walls Framing Studio, both located in the borough of Ambler. In their free time, the artists' work to curate and produce the studio's exhibitions. Every two months, a local artist is featured on display in the store's front windows.
The gallery offers its patrons a chance to view and purchase work from local artists in a convenient and easily accessible space.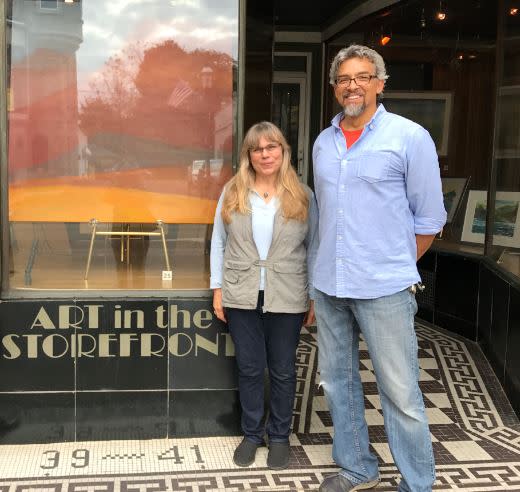 There is no "indoor" space at this unique gallery; all the pieces are displayed in the windows, hence the name "Art in the Storefront."
The concept of Art in the Storefront came about during Kieser's time on the Ambler Borough Council, during which she approached Denney Electric, an Ambler based lighting distributor, about transforming the front cases of their building into a gallery.
Art in the Storefront was inspired by a similar program that Kieser was involved with while living in Buffalo, NY.
Denney Electric was on board and brought the project to life by renovating the space to suit the gallery's needs. In addition, Denney installed custom lighting specifically to highlight the art on display.
Art in the Storefront officially opened in 1999. With the opening came the addition of co-curator Mark Elliott.
Both artists share the same passion for art as they do for their local community. As a result, Art in the Storefront aims to promote local artists who work in a variety of mediums. 
In addition to showcasing the wide range of talented artists living in Montgomery County, Art in the Storefront partners with local businesses at every opportunity.
The most prominent example of this commitment to the community is their longstanding relationship with Denny Electric. Denney provides the lights for each show and pays for the opening reception while the artists work to bring in local talent and set up the displays.  
Unlike most other galleries, Art in the Storefront is always open given its unconventional layout.
Currently on display is the work of Daniel Endicott, a local celebrity in his own right. In addition to his artistic talents, Endicott co-owns one of Ambler's most popular dining and drinking spots, Forest & Main Brewing Company.
At Art in the Storefront, there's no shortage of local talent. Work by Montgomery County-based artists is available to view and purchase at any time, making this spot a true gem in the Montco art community.