Contact: Nicole Paloux
                nicole@red-balloon.net
                267.909.3309 (m)
                Brooke Hersh
                brooke@kopbid.com
                484.681.9452
                215.601.6640 (m)
                John Golden
                golden@valleyforge.org
                610.834.7985
                610.420.6337 (m)
RECENT STUDY CONCLUDES STRONG OPPORTUNITY FOR EXECUTIVE MEETING AND EVENTS CENTER IN MONTGOMERY COUNTY
Study conducted by King of Prussia District and Valley Forge Tourism & Convention Board reveals strong demand for modern facility in King of russia
KING OF PRUSSIA, Pa. (July 22, 2015) - King of Prussia District (KOP-BID) and the Valley Forge Tourism & Convention Board (VFTCB) have announced the findings of a recent study, they jointly commissioned, on the feasibility of an executive meeting and events center in Montgomery County, Pennsylvania. The research shows strong support for an executive meeting and events center with 125,000 square feet of sellable space, including an exhibit hall, banquet hall and meeting rooms. Respondents also felt the facility could be an important driver to spur even more economic development in the County, particularly for increasing group room demand at local hotels.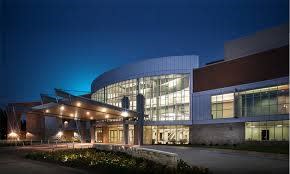 Example of industrial quality Executive Meeting and Events Center KOP-BID and VFTCB envision.
Image of Waco, TX Convention Center.
According to the study, an estimated $49.2M in economic impact during the facility's first year of operations is predicted throughout Montgomery County. This countywide economic impact reflects $30.1M in total event spending and $19.1M in indirect and induced expenditures, including an estimated $9M in employee salaries and wages supporting 416 total jobs. Once the facility reaches its stabilized year of operations in year five, the total countywide economic impact is estimated to amount to $85M, including $15.6M in employee salaries and wages, supporting 719 total jobs throughout the County. It is estimated that, by year five, the facility will host 226 events and nearly 111,000 attendees, generating 52,737 room nights at area hotels.
The study's unbiased scorecard analysis of the County identified King of Prussia as the ideal location for the new executive meeting and events center. In order to determine this, the scorecard analyzed local market conditions, including: infrastructure; companies and employees; existing hotels; retail offerings; and demographics. Several locations throughout Montgomery County and the key characteristics of those are shared in the report (Available at visitkop.com/kopbid-initiative/publications). 
The two organizations commissioned Tourism Economics of Wayne, Pa., to conduct the market and economic impact study. The study examined the viability of a new, state-of-the-art facility, in the context of a recent increase in hotel supply and the reduction in available space for large meetings.
The main objectives of the study were threefold: 1) provide a framework to assess local market conditions to identify a suitable location for the proposed executive meeting and events center in Montgomery County; 2) project levels of demand and usability at the facility; and 3) estimate the potential economic impacts attributable to the facility.
"KOP-BID and the VFTCB believe this executive meeting and events center is a terrific opportunity for a developer of these types of facilities. In addition to providing conventional meeting space, the facility could also serve as an event and entertainment center, potentially creating strong synergies with the wide variety of amenities and facilities that currently exist in King of Prussia and Montgomery County. Both organizations are willing to assist an interested developer with the potential availability of public funds, as well as and site selection ideas," stated Eric Goldstein, executive director of the King of Prussia District.
"In the past three years, Montgomery County has added 10 new hotels, increasing its room night supply by approximately 10 percent," said Mike Bowman, president, Valley Forge Tourism & Convention Board. "In 2012, when the Valley Forge Casino Resort opened, that added a new attraction and recreation option to the region, but it also resulted in a reduction of 54,000 square feet, or about one third of the meeting space, at the Valley Forge Convention Center. Given the increase in hotel rooms and the decrease in large meeting space, KOP-BID and VFTCB felt it was time to explore the concept of a new, state-of-the-art meeting facility as a way of growing corporate, association and convention business in the region and creating greater demand for overnight visitation."
The study also noted that with the significant increase in lodging supply in Montgomery County in recent years, the proposed executive meeting and events center could be a standalone facility and capitalize on the supply of existing hotels based on a strategic geographic location. The facility could have restaurant and retail offerings that would create synergies with existing retailers, restaurants, and recreation/entertainment options surrounding the facility and provide the owner/operator with additional revenue sources. In addition, as the facility attracts meetings and overnight guests, it could boost group demand and serve as a main revenue generator for local hotels and other local businesses throughout Montgomery County. KOP-BID and VFTCB are now looking for a developer who might be interested in building such a facility in King of Prussia.


About King of Prussia District
King of Prussia District (KOP-BID) is a 501(c)(3) not-for-profit, special services organization. KOP-BID engages public and private partners to collaboratively improve the economic environment in King of Prussia by making it more vibrant, attractive and prosperous. Visit the King of Prussia District online at visitKOP.com and connectKOP.com.


About Valley Forge Tourism & Convention Board
The Valley Forge Tourism & Convention Board (VFTCB) is a nonprofit, membership-based sales and marketing organization that actively promotes the Valley Forge area and Montgomery County, Pa., as a convention site and leisure visitor destination by encouraging patronage of its 300-plus member hotels, restaurants, attractions and services. The VFTCB recently went through a top to bottom rebranding of the organization. It launched a new "Let Freedom Reign" branding campaign in May 2014, which has quickly generated new excitement and interest in Montgomery County and its numerous tourism and convention destinations. The campaign included a traveling #MakeItMontco kiosk, which has already visited more than 20 locations, a multimedia advertising campaign, a robust media relations campaign, "whistlestop" tours through Montgomery County towns to educate residents and elected officials about the new campaign, and a new website. The VFTCB's award-winning website, valleyforge.org, serves visitors, meeting planners, tour operators and residents, as well as hosts The Pursuit, a nationally recognized twice-weekly blog.