For the fourth consecutive year, the Valley Forge Tourism & Convention Board (VFTCB) slices through the competition to find out which local pie is primo
KING OF PRUSSIA, PA – Montco's Best Pizza Tournament is back! For the fourth year in a row, the Valley Forge Tourism & Convention Board is pitting pie against pie! After the organization called for nominations of people's favorite pizza places on social media in February, the list has once again been narrowed down from hundreds to 64 contenders that people can vote on starting March 1.
This year, the VFTCB is creating a map for people to visit all 64 pizza shops. Places will also compete based on different categories, as opposed to regions:
PepperBronis
Big Cheese
Sauce Bosses
​Doughboys
---

Who's Got the Best Pizza in Montgomery County?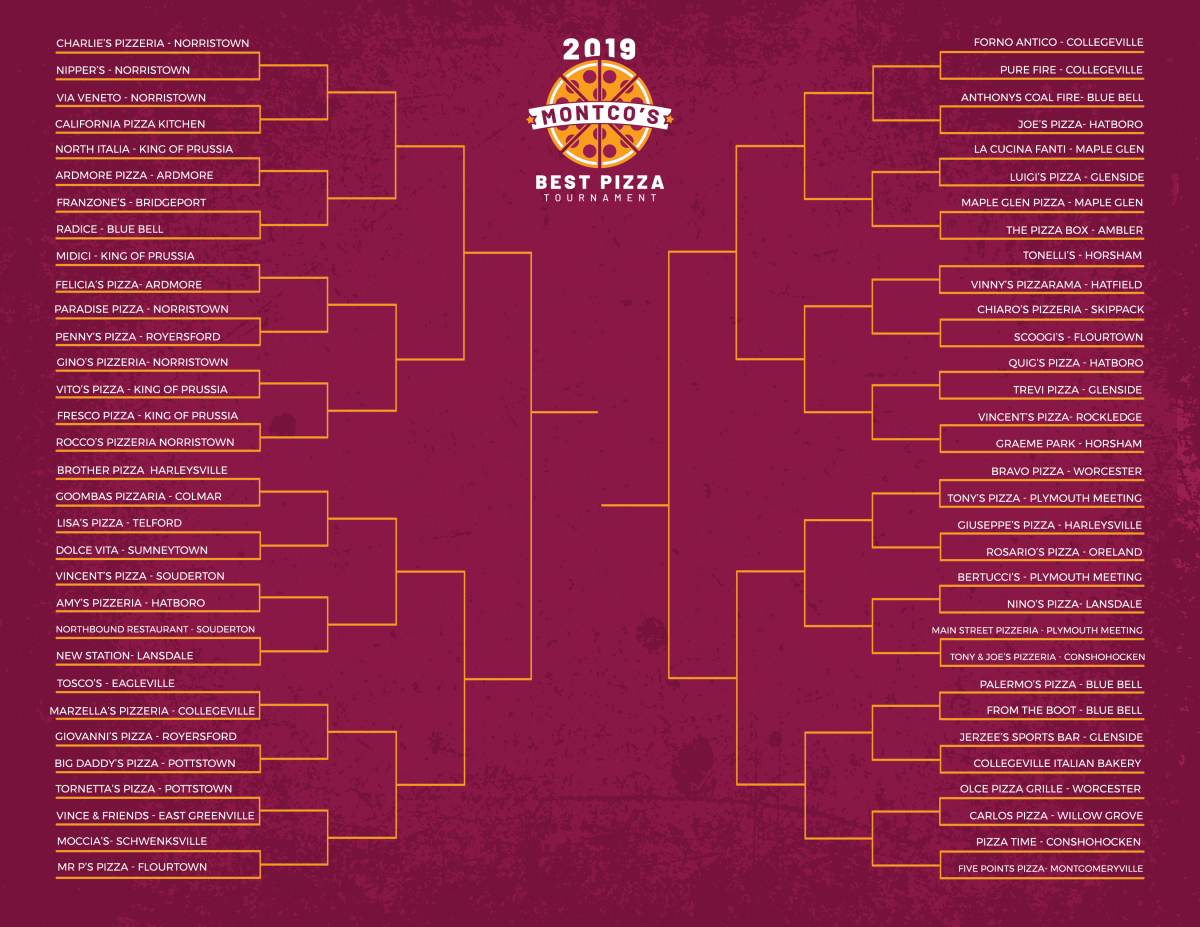 The pizza shops also received a marketing kit, delivered by hand in a pizza box carton. Inside were giveaway magnets, a pad of tear-off voting requests to accompany customers' checks, a poster to advertise the tournament in or outside the store, and a copy of Crave, the VFTCB's award-winning dining guide.
The tournament began in 2016 when the VFTCB's social media pages got heated over a list of recommended pizza shops, and the organization took the opportunity to create a community-involved contest with the March Madness-style bracketed competition, originally pitting 32 pizza places against each other.
---
"Who doesn't love pizza?! This tournament is a win for mom-and-pop entrepreneurs across Montgomery County, and our staff really enjoys promoting them, and watching the competition unfold," said Edward Harris, VFTCB's Chief Marketing Officer. "It's a great opportunity to engage the public on social media and involve the community to get customers interacting with us and their favorite pizza spot. We're excited to support these Montco small businesses in helping them become advocates and ambassadors for themselves as well."
---
The tourney continues to grow, and there will once again be an elite eight, and final four. Chiaro's Pizzeria & Restaurant, Green Lane, was crowned champion two years in a row (2016 and 2017), and Bravo in Worcester won in 2018.
The tournament leverages the VFTCB's considerable social media reach. Last year, the VFTCB saw an upswing in social media-driven click throughs to its website, which surged nearly 200 percent during the peak of pizza voting in April. The best-pizza topic reached close to 800,000 people on Facebook, and pizza web pages soared with over 30,000 pageviews driven by social media traffic.
The Marketing and Communications successes have caught the eye of several third-party industry awards organizations, earning three awards by firms that included PR News, a best-practice publisher with editorial offices in New York.
The 2019 Montco's Best Pizza Tournament will close on April 8. Once results are tabulated, the winner will receive an engraved plaque mounted on a wooden pizza paddle as a trophy. All votes are cast online at valleyforge.org/pizza.
The Valley Forge Tourism & Convention Board (VFTCB) is a nonprofit, membership-based sales and marketing organization that actively promotes Valley Forge and Montgomery County, PA as a convention site and leisure visitor destination by encouraging patronage of its 500+ member hotels, restaurants, attractions, and services. The award-winning website links visitors, meeting planners, tour operators, and residents to a diverse portfolio of brands focused on reasons to visit the region.